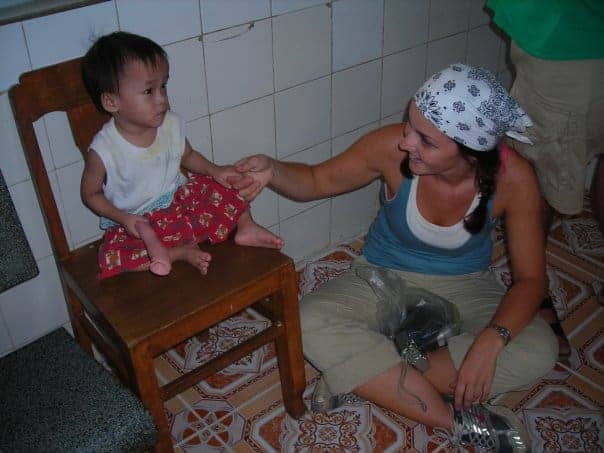 Have you ever had a moment where you stop and look at the person you've become and wondered what it was in life that brought you to this point?
For me that moment came while holding my newborn daughter in my arms. My mind flashed to a haunting memory that transported me half way across the world to the Vietnamese Orphanage I visited over a decade ago. I was holding the cold, tiny hand of a toddler sitting alone in a hallway, playing with a baby doll arm- the only toy in sight. Her frame was far too tiny for her age which I could only assume was a product of neglect and malnourishment. I have no idea how long she had been at the orphanage or if there was any hope in her being adopted. The memory of this made my squeeze my daughter a little tighter. The belonging that this orphan needed- the love that I pour into my own babies, is the motivation that drives me to help others grow the roots of a loving family through adoption.
This path began as the curious girl growing up in Erie, PA that loved babysitting. My fascination understanding the brain and why people do the things they do lead me to pursue a Psychology degree from the University of Syracuse. With my ever-present sense for adventure I found myself setting sail on the MV Explorer in the Fall of 2006 with Semester at Sea. It was at a stop on that very trip where I had the heartbreaking privilege of meeting the little girl in the photo above. From that experience, I set out to focus on international adoptions. Unbeknownst to me the climate of international adoption was drastically changing at that time. Many countries that had previously sustained strong international programs have slowed to a crawl, or even shut down completely. I then shifted towards a career in domestic adoption where I felt I could have a bigger impact.
This led me to graduate school in Pittsburgh and ultimately an internship with Cheryl Parkhill, founder of Absolute Love. She mentored me with the wisdom of 25+ years in the adoption industry. She certainly earned her retirement at the beach! In doing so, Cheryl asked me to step into her role with Absolute Love. This was not even remotely ideal timing to be taking on the agency. I had just moved back to my hometown of Erie, was working full time as a social worker at a nursing home, and was awaiting the arrival of my first child. My husband and I often discussed the dream– me quitting my day job and focusing on ALA , but life demanded my attention elsewhere.
In April of 2019, I gave birth to my second child. While on maternity leave it was then that I held my new baby and everything fell in place.Our family wasn't quite ready for me to transition to Absolute Love full time, but then again- would the time ever be right? We decided to leap. Actually we jumped! I felt scared and yet at peace, all because I trusted that the road had been leading here all along. My babies and my business need my attention and I left my primary job to focus on that mission.
So here I am, fully focused on building Absolute Love into the dreams I have for it, the dreams Cheryl had for it all along. Moving forward, I will continue to specialize in Home Study documentation for Pennsylvania families who choose to adopt out of state. Beginning in September 2019, we will offer full adoption services to potential adoptive families. This has been the goal for me since taking on ownership of Absolute Love–affordable, ethical and highly individualized FULL adoption services. I am so thankful for where I am today. I couldn't be more excited to continue this journey.
The future is bright.