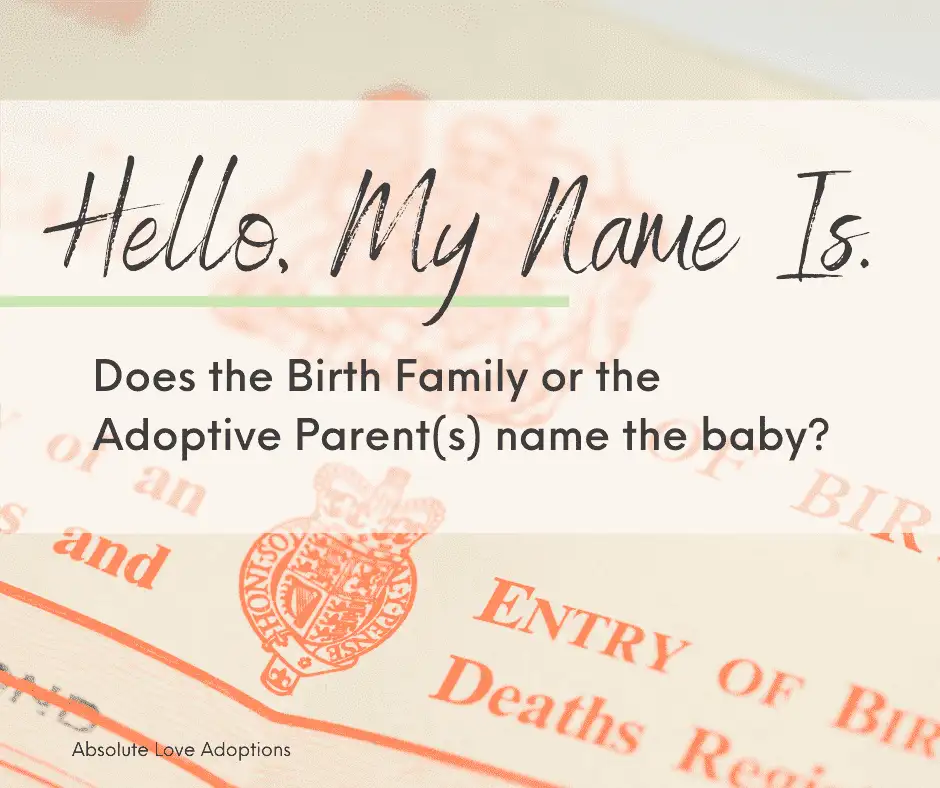 Does the Birth Family or the Adoptive Parent(s) name the baby?
As a hopeful adoptive parent you've been waiting for years to be a parent. After every fertility treatment ever, multiple miscarriages, a birth mother matching and choosing not to place after all, and a rollercoaster of grief and joy, you have finally been matched with an amazing birth mother who is due any day. Ever since you were a child, you had the name picked out for your future little girl, Eloise. The moment where you see that dream happen is just moments away!
As an expectant mother without any other children, you made a difficult choice to carry a pregnancy with your beloved first child that you will be placing for adoption. The looming separation is both exciting and terrifying, but you cannot wait to meet the little girl that you have affectionately called Cici since the moment you found out you were pregnant. While you will not be the one to raise her, you know your love for Cici is obvious, and in naming her you have reassurance that you'll always have a concrete connection with her. 
Well now, this is quite the dilemma. What is supposed to be happening here, legally…morally…adoptionly? Will she be Eloise, or will she be Cici?
Adoption, like anything, is full of perspectives and opinions on the "right" way to do things. In this scenario, professional advice falls on a continuum anywhere from "name the baby together!' to "You can just change the name later."
As a social worker with Absolute Love Adoptions, we see Birth mothers most often approach this question from a place of permissiveness, often asking "Am I allowed to name the baby?" whereas hopeful parents most often question, "Why wouldn't I be the one naming the baby?" 
So what should you do?
Before venturing down this road, let's make sure we are on the same page about what adoption isn't.  
Adoption is NOT the same as parenting a biological baby, and it is not surrogacy. 
The adoptee gets all of their basic human ingredients from a mommy and daddy that are not the same as the ones who are raising them. Effectively, they have two sets of parents. The adopting parent(s) have a lifelong commitment to their child, and a lifelong connection to their child's first parents.  It is essential to acknowledge that a child's adoption does not undo that history, bond or the biological and emotional connection to their birth identity. 
Neither does changing their name. 
The process of an adoptee's naming is different in some ways from a biological birth. After birth, at the hospital, a birth mother fills out a request for a birth registration, and accompanying original birth certificate. On this form she puts whatever name she is giving the baby.  She then signs her consents to the adoption, and the baby becomes the responsibility of the adoptive family.  That certificate is filed, and marked as an intended adoption. The original birth certificate is then not issued yet. The adoptive family is supervised for a period of months before the adoption is presented to a judge who puts his final stamp of approval on it and makes it official. At this time, the attorney files for an amended birth certificate. The family then receives the amended certificate reflecting the name of the child as they will be known to the adoptive family. The original gets filed with the state and there are strict controls in place around who can access this document. 
*Note, there are variations in this process of receiving the initial birth certificate depending on the state of residence. This is true for Pennsylvania births.
This process of obtaining the birth certificate has influenced adoption professionals and attorneys to recommend families do all kinds of things with regards to naming the adoptee. Not all of those suggestions are entirely ethical, or reflective of doing adoption "well."
Ethics refers to standards of right and wrong that dictate what humans should do, usually in terms of rights, obligations, benefits to society, fairness, or virtues of honesty, compassion, and loyalty. However, feelings, laws, and social norms can deviate from what is ethical. Ethics therefore requires continuous assessment of our own moral beliefs and conduct, and striving to ensure that we live up to these standards.
So, what do ethics look like during the process of naming a child who is going to be adopted? From a perspective of doing adoption "well", this is our advice: 
Remember that each situation will be different, depending on the birth parents and their own wishes, and the relationship with the adoptive family. 
Establish an honorable start for the adoptee

. A given name is especially important for adoptees. Sometimes this is the only thing that connects an adoptee in a concrete way to their birth family, knowing their birth parent gave them the gift of their name.

Respectful, collaborative conversation about the identity this child will have forever is best for the child and their future understanding of who they are in birth, and by experience. 
See this as an opportunity to build relationships and trust with birth parents.

What better way to build trust between you and the birth family than to offer a safe space to discuss together how this child will identify in name.
Come up with a plan:

If possible, do not wait until birth to talk about names. If you are uncomfortable doing so, ask your agency social worker for support. Know that some expectant mom's will not have the support from a social worker that they need to work out these kinds of details, either because they are doing an independent adoption, or their social worker simply doesn't facilitate this conversation. The adoptive parents can be a leader in starting this conversation.
Here are some ideas on how you can collaborate on naming the baby:
The birth parent names the baby whatever she wants, and puts that on the birth certificate knowing you intend to name the baby something you've chosen. Birth parents can even name the baby something, but not formally put it on a certificate. Sometimes birth mothers share this naming with the adoptive family, and sometimes they choose to keep that private as something for just them and their child to share. *Be prepared that a child will need some support in understanding why the birth family calls him/her something other than their given name.
Use a birth family name in their original form or modified. For example, if the birth mother is  Evelyn Rose Hastings, consider naming the child Everett, Eva, Rosalie, Eve, Rosalyn, Roscoe, Hastings, Everly, or some variation of one of the birth parents' names. 
Give birth parents the opportunity to choose between your top two names. Perhaps your two favorites are Mya and Lisette. Ask the birth family to choose one of those. 
Ask birth parents to give you a list of names she/they like. Maybe they'll line up with yours!
Give the baby two middle names. Example: Kaia Ellora Mae Jackson, with the addition of "Mae" as her choice, and the second middle name.
Suggest a name you like and ask for an opinion about it. Maybe she has a reason hearing her child called a certain name may be upsetting, like let's say you've unknowingly given the name of a former abuser.
Give her a list and ask her to narrow it down by crossing off some she doesn't like.
If no consensus is made, try deciding on a nickname together. Maybe birth mom was always called "Bean" by her parents. Maybe the child can share that nickname with her birth mother.
There are many ways to work through naming the baby that can be agreeable to both parties. If you can create an opportunity to discuss naming the baby, ideally before birth, prioritize doing so. Again, this is what Social Worker's are for so do not hesitate to ask them for support.
Some other helpful tips for adoptive parents with regards to naming the baby are:
Do *not* name the baby something and then change it later at finalization simply because you can. Yes, legally you have every opportunity to do so, and yes you are the decision maker for your child now. But please exercise this power with kindness. 
Avoid showing up to meet the mom or baby and telling her what her baby's name will be. 
Remember that there is often cultural significance in naming a child. Particularly if you are adopting outside of your culture or race, this knowledge will be important to you and your child. Birth parents, if you are someone who has a family or cultural custom in naming, communicate that to your adopting family.
While you are at this whole open communication thing, consider how you'll work through the newborn photos at the hospital, baby's first outfit, baby's first bath or feeding, and who gets to keep the hospital mementos at discharge.
As a reminder, adoption is different from biological parenting, or surrogacy. This is a unification of two families in the most intimate of ways. 
If anything you've read in this article feels triggering, or brings up emotions, ask yourself why? Give yourself some time and space to further explore your feelings about adoption and ownership, and the spirit of openness. 
Lastly, be proud of yourself as a expectant/birth parent or adoptive parent for taking the time to learn and having the desire to do adoption well. 
Kudos!
Want to learn more about naming an adopted child?

Send us a message to be notified when the course, A Tale of Two Mothers becomes available!
ADDITIONAL RESOURCES ON NAMING