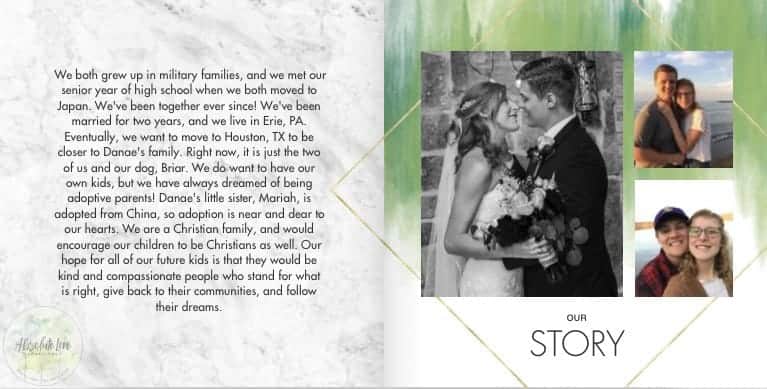 Written By: Danae Ervasti
I recently got to help create a profile book for a beautiful adoptive family. I knew absolutely nothing about profile books, so I decided to create one for my own family to get a better sense of how to help this family and other families later on. 
The first thing I learned: Creating a profile book is really hard!
I don't know if you're like me, but I can't just stare at a black canvas of a book and fill it with a genuine depiction of who my family is. I quickly become overwhelmed with the process of creating a book that truly captures who we are as a family. I needed somewhere to start, some direction. So, I made a list. I wrote down everything that was important to include in the book. You want to share the important pieces of your life, but don't overwhelm the book with your life story.
I started with a "dear Expectant Momma" letter. This is the first time she will "hear" what you want to say to her, so it needs to spark a genuine connection between you and her (This can also be really difficult to write, so we'll dive deeper into that in another post). I told a little bit of our story, I introduced our family (My husband, myself, and our doggo), I introduced some of our family and friends, I shared about our home and neighborhood, I shared about our love of travel, our beliefs as a family, and our commitment to her as the potential birth mother of our future child. The last thing I included were quotes about our family from our references. This was one of my favorite pages. It's special to have people outside of your family, who know you deeply, share the beautiful things they see in your family.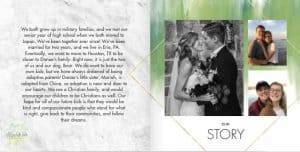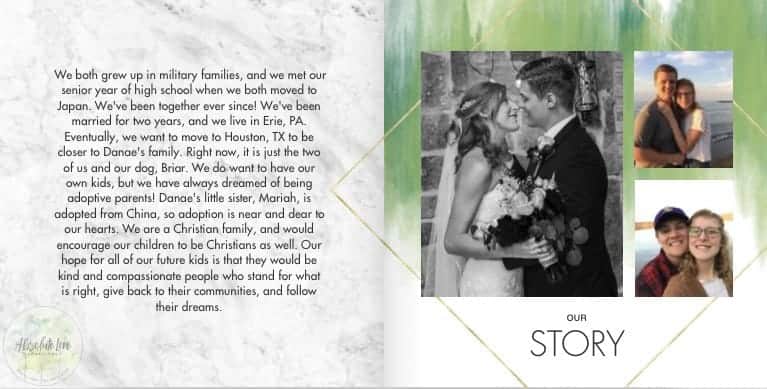 Okay, now I had a list of what I thought needed to be shared so that we could give a genuine and authentic picture of our family. Next, I needed to compile a bunch of pictures that we could fill our book with. When it comes to choosing pictures, it is important to choose pictures that represent your day-to-day life. Yes, it is okay to put some professional pictures of your family in the book (the cover photo and a wedding picture) but overall, you want to use candid pictures. An expectant momma doesn't want to see a book filled with a picture-perfect family. She wants to see a real family that she could actually envision her child living with. A picture is worth a thousand words, so make sure the pictures you choose really speak to who your family is.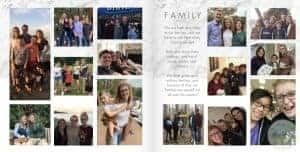 If you say you love to craft, garden, cook, or play sports, take pictures of yourself doing those activities and put them in the book! This will really help convey who you are as a family, and what your everyday life looks like.
When it comes to captioning your photos, try telling a story. Don't just tell me that you have a dog named Briar who is a 3 year old Rottweiler. Tell me about how he hates to be left alone, how much he loves going on car rides, and how loudly he snores. Don't just tell me you love to travel. Tell me about how you grew up in a military family, and that moving to a new state or country every few years sparked your love for experiencing new cultures.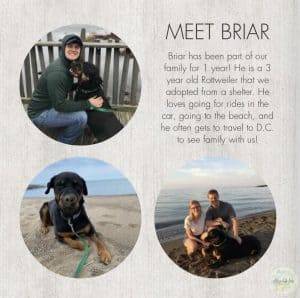 Dig deep, share authentically, and remember that your profile book is an expectant momma's first impression of your family, make sure she wants to learn more about who you are!
For more guidance on how to put together your profile book download our guide.